Wishing you knew more about the ins and outs of our threading tools and techniques? Whether you're an industry expert or a threading novice, you might be surprised by the number of industries and businesses our high quality threading products have played a part in. Have a read of our latest blog to find out a little more about how DC Swiss has become the world's leading internal threading tool provider, and where we're headed next.
Industry expertise: Our Swiss roots
Since 1915, our specialist skills have made us leaders in the threading field. DC Swiss started out when Mr. Daniel Charpilloz, our founder, took the leap from looking to purchasing the best threading tools available to instead producing them himself.  Making quality his priority for every single piece of tooling he manufactured, his philosophy remains and DC as we became known have been producing expert threading technology for our clients ever since.
From our Swiss manufacturing base, DC Swiss now supply threading tools to every corner of the globe with permanent wholly owned sites in Switzerland, Italy, France, Germany, United Kingdom & China.  In addition DC boasts experienced teams based all over the globe, so wherever you are in the world you can rest assured we're not too far away. DC Swiss have been providing top quality tools for innovative threading technology to a whole range of different companies and industries for over 80 years. Sold in over fifty countries, DC Swiss's state of the art threading products really have made their mark worldwide. It is a brand which you can truly trust.
Attention to detail: State of the art threading machinery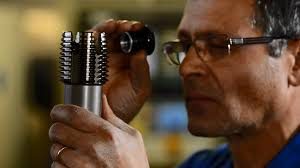 Our long history of dedicated manufacturing means we know exactly what our customers want from their threading tools. From our ultra modern production facility in Malleray to our skilled distribution network we're always working to make sure we are providing you with the best possible service. That's why as well as being produced with the latest, machinery and robotics, we go to great lengths to make sure our threading tools are as reliable as possible. For instance, did you know that every tool, tap or thread mill is inspected three times before dispatch by hand & a fourth time after coating if the tool is ultimately a coated product. No matter how often you use our cutting tools, we can guarantee that every possible effort has been made to make sure you receive the same quality result every single time – and for a price that is competitive for a performance tool.
Shaping your tools: Cutting geometry
The complete catalogue of products from DC Swiss has a variety of tools with cutting geometries, tried and tested in specific material groups to give you the best possible application threading tool, whether you are machining composites, plastics, aluminium, steel, stainless steels, precious metals or tough nickel alloy.  You can often tell a serious industry player by the depth of its product portfolio. DC Swiss's Standard internal threading range starts with an off-the-shelf metric M0.3 x 0.08mm thread-mill and continues up to the M160 MegaTap which again is available to you ex-stock. Another fact which underlines the depth of our range is the amazing 26 different options we have when it comes to producing an M10 x 1.5 internal thread!  Considerations such as different depths, materials, chip direction, no chip, no burrs; all these complexities and more can be achieved with DC Swiss threading tools. We hope you agree that these facts are extremely impressive, and that you can rest assured that DC will have a product solution to suit you which achieves the highest standard and beats your expectations. Don't settle for second best or even your current method, put DC Swiss to the test and give us an opportunity to improve your internal threading.  
Intrigued by the inner workings of our industry? We'll be exhibiting at MACH 2020 this April, and we would be delighted to have an opportunity to discuss your threading concerns/issues. Come and find DC Swiss's experienced team at MACH 2020 to see how our quality threading technology can help you.